Lunch at Caseros, Another Wonderful Find in San Telmo
Our Travel Insurance: World Nomads
San Telmo is at no loss for great restaurants, and we recently stumbled upon another: Caseros, on the street of the same name, near Parque Lezama.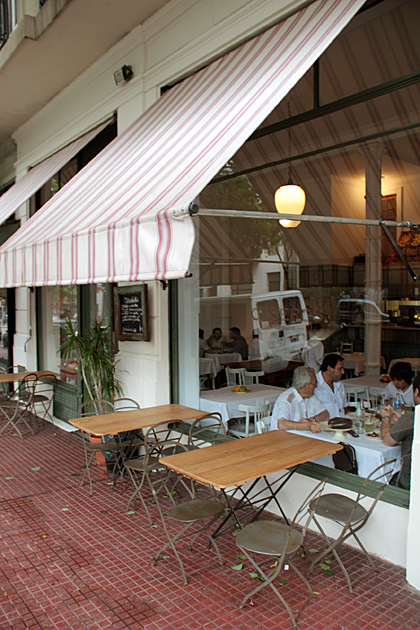 The restaurant is almost clinically white. While choosing our table, we noticed that even most of the guests were dressed in white. But a feeling of warmth reigns in Caseros, and we immediately felt at home. The walls of the bar and kitchen were painted to resemble a ramshackle storefront from decades ago, and baskets full of eggplants and fruit were set on each table. The light color scheme and huge windows allowing in the sun made for a cheerful place to have a meal.
The menu is small, which is something I always appreciate, and our food was excellent. I chose the fish, and Jürgen had an incredible plate of beef, served with chunks of onion, pumpkin and potato. The portions were generous, and we loved every bite. Caseros is famous for its lemonade so, even though it makes an odd dessert, we finished our meal with a glass. Freshly squeezed, and served with mint leaves. Excellent.
We went to Caseros on a rainy, mid-week afternoon, and it was packed. I asked the waiter if it was always so popular, and he responded in the affirmative. Little wonder: with friendly service, great food, good prices and a quiet location next to the park, Caseros is tough to beat for a relaxed lunch in San Telmo.
Caseros
Caseros 486
Tel: 4307-4729
Location on our Buenos Aires Map