Casa Felix: Great Food & Company Behind Closed Doors
Since opening a couple years ago, the closed-door pescaterian restaurant Casa Felix has built a name as one of the best dining experiences in the capital. Chef Diego Félix and his US American wife Sanra welcome guests into their charming Chicarita home for an evening of excellent cooking and conversation. In the garden and around the dining table, it's not uncommon for total strangers to quickly become friends.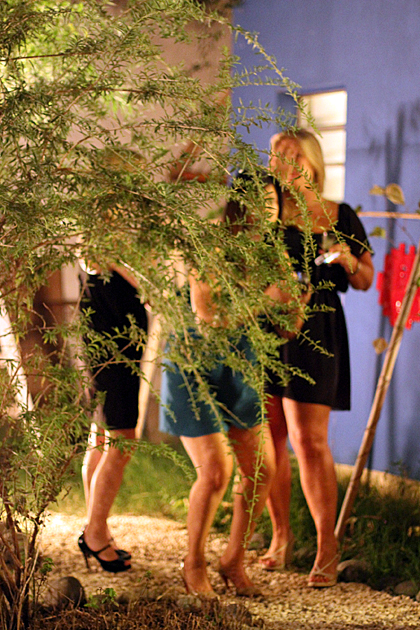 Concentrating on ecologically-friendly, organic foods and produce from their own garden, Diego invents dishes which are both delicious and beautiful to look at. Ingredients are selected from across South America, such as plantain leaves, manioc and an Argentine mint called peperina. Unless you're a professional gourmet deeply familiar with the continent, you're going to be discovering a lot of new tastes during the five-course meal.
Casa Félix is a secret underground restaurant, but breathless reviews in publications like the New York Times and Condé Nast Traveler have made it a rather poorly-kept secret. Which is good. We visited on a warm late-summer evening and, sitting in the garden for a drink before dinner, fell easily into conversation with other guests. Everything was so relaxed and casual, it really felt like you were over at a friend's for dinner. If you had a friend who was an amazing cook.
The restaurant is just one piece of Diego and Sanra's culinary project called the Colectivo Félix, which seeks to promote eco-gastronomic through meals, investigations and photography. We didn't get to meet Sanra, who was occupied with their recently arrived newborn, but Diego was a gracious host throughout the evening, eager to explain the various herbs and ingredients, and clearly happy to have us in his house. Besides, meeting Sanra would have probably just ratcheted up our envy of her… a gorgeous home, a highly-praised closed-door restaurant, the attention of the world's best food critics, and a handsome Argentine husband who just happens to be an incredible cook. Quite the life, there!
Check out their website, and make reservations when you're in the city! The five-course meal is just 150 pesos (US$38); an incredibly fair price for an unforgettable evening out.
Tel: 11 4555 1882