The Cathedral in Oviedo, Spain
Walking through Palermo's charming Plaza Güemes, on the way to a lunch meeting, we couldn't help but take a peek inside the imposing Basilica Espíritu Santo.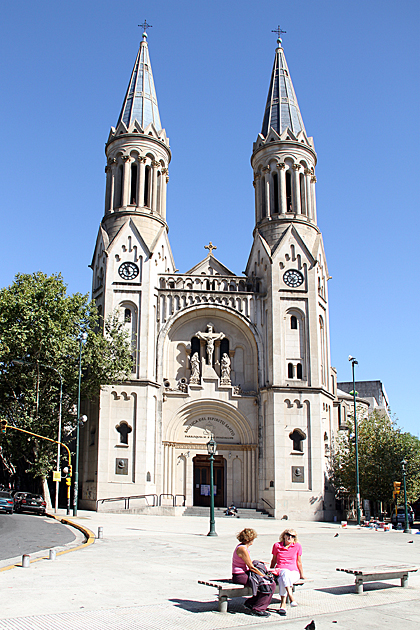 Built in 1907 by the immigrant Italian community, the basilica has an austere, grey exterior, absolutely void of ornamentation. The style is Romanesque, with two tall spires that tower over the plaza. The interior is a bit less dour, with decorative elements imported from Europe, such as granite columns from Austria and French stained-glass.
When we decided to go into the basilica, we were already about ten minutes late for our meeting. But the doors were open! And it looked so cool… surely, our appointment could wait a bit longer. We finally showed up nearly twenty minutes late, nervous and apologetic, but we needn't have worried. The woman we were meeting wasn't yet there herself. Punctuality in Argentina is a very fluid concept.
Location on our Buenos Aires Map