The National Museum of Fine Arts
Organize your Buenos Aires Trip here
We confidently strode up the stairs of an impressive neoclassical building, convinced that it was the Museo Nacional de Bellas Artes. Passing between the massive gray Doric columns, a guard brusquely informed us that we were actually at the University's Law School. He shoved us off toward a nearby clump of dark red clay, which had been been molded into the form of a building.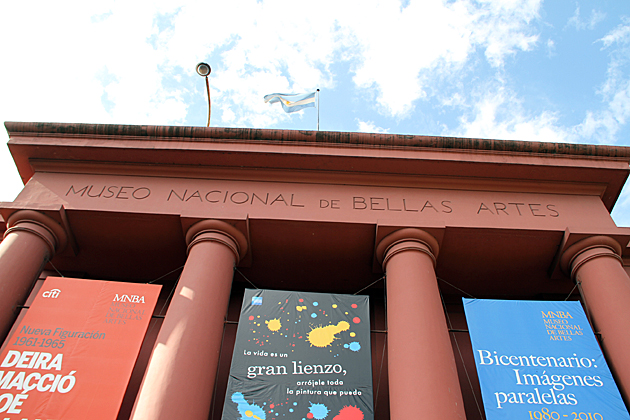 In this neighborhood of refined elegance, the museum definitely stands out. It was built in 1870 as a drainage pumping station, and converted for use as a museum in 1933. The building's age is evident; inside, paint is peeling off the walls and the air is impregnated with the unmistakable atmosphere of slow decay. Exhibits were poorly lit, trash was strewn carelessly about the floor, and the visitors, laughing loudly and using cell phones, weren't treating the place with any respect. Overall, it was a far cry from what we expected of the country's premier fine arts museum.
Still, the museum holds an astounding collection, which we spent a couple hours taking in. The first floor features masters from all over the world, including Cezanne, Rembrandt, Guaguin, Van Gogh and Monet. But we most enjoyed the upper floor, which serves as an excellent primer to the history of Argentine art. There was a healthy blend of the classic and modern, featuring artists mostly unknown outside of the continent. We loved Guillermo Kutica's mattresses made of maps, and were puzzled by the mystical, post-modern works of Xul Solar.
By the end of our visit, any complaints we'd had about the building had faded from memory. It helped that entrance to the museum is completely free, making it difficult to gripe at all. Still, once the city has a little extra cash on-hand, another round of refurbishment for this otherwise excellent museum might be in order.
Location on our Buenos Aires Map