On a Twitter recommendation, we stopped by a parrilla called Las Cholas on a sunny afternoon we were spending in Palermo. During our time in Buenos Aires, we've eaten at a lot of restaurants, and can safely say that Las Cholas is among the very best of them.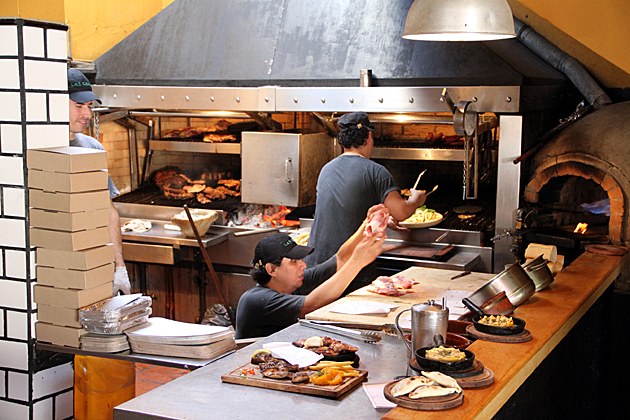 Las Cholas' location on Calle Arce is perfect. This tiny section of Palermo directly behind the polo field is advantageously separated from large streets and enjoys light traffic. A number of restaurants have set up here, and we joined the hordes of hungry people blanketing the sidewalks. But we were quicker (or more shameless) than the others, and snatched a coveted window table at Las Cholas.
Just reading the menu was mouth-watering, and once we saw the plates being delivered to other tables, we did a double-take at the prices. Huge portions of perfectly grilled meats for very little cash. Las Cholas would be a bargain anywhere, but especially in Palermo, where everything is noticeably more expensive than in San Telmo. We agreed upon provoleta as an appetizer, which is both (a) nothing more a hunk of baked cheese, and (b) exactly as delicious as that sounds. I had grilled quesadillas as my main course, while Jürgen decided upon the lomo, as he almost always will after spying it on a menu.
Thank god for technology like Twitter! Las Cholas has been just one of the great experiences we've had thanks to enthused tips from our social networking buddies. As our time in Buenos Aires ticks down, make sure to let us know if there are any other "can't miss" dining or entertainment experiences!
Las Cholas
Arce 306
Tel: 4899-0094
Location on our Buenos Aires Map
–Many more Parillas in Buenos Aires